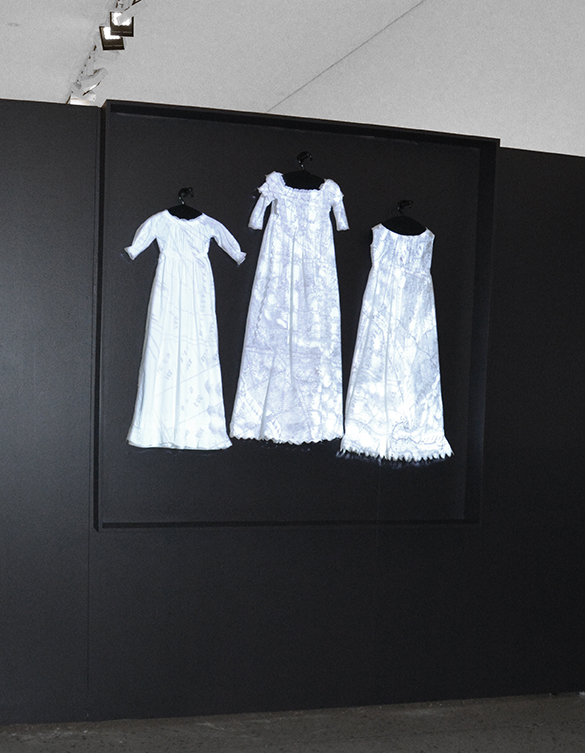 Grimley's Subdivision Faye Wilson 2020
Grimley's Subdivision ( for Black & Blue 2, a project and exhibition conceived by and curated by Faye Wilson for Blue Mountains Cultural Centre, Katoomba, NSW, 9 Aug – 27 September, 2020),
Artist notes accompanying the work for the gallery:
The subjugation, carving up and selling off the Blue Mountains by Europeans is charted in the history and early maps of the area. While it was men's work to survey and draw maps, many women sewed for their families for up to 20 hours a week. Women of means might have had access to dressmakers services, yet still sewed for pleasure rather than necessity. Many middle class women were still required to do the lion's share of sewing required for their family. Men were not free from the yoke of class and responsibility either and those with a leaning toward artistry were often confined to expressing this in occupations and professions that utilised latent talents.
An examination of early colonial maps evidence delicate, nuanced line work that accompanies the measured, practical aspects of the draftsmanship. Sewing, surveying and cartography share much common ground and both involve surveying, drafting and cutting or sectioning. Line work can be compared to stitchery. Sewing also requires the engineering of fabrics in varying degrees of complexity that are often overlooked by the uninformed.
Statistics reveal that art as a profession remains very much the domain of the middle and upper classes today and though technology relieves many of us of tasks that require such highly refined skills, it is perhaps worth considering that opportunities to express artistry though manual labor also diminishes.
Faye Wilson 2020
Artwork Grimley's subdivision by Faye Wilson
Animated /3d projection, 2min looped
Poem The Cartographer's Wife by Emma Brazil
Thanks to Mt Victoria Museum for the loan of the three antique christening gowns used in the installation. Thanks to Cindi Drennan from Illuminart for projection mapping the artists animation.
Point of View,  Faye Wilson 2015
Animated /3d projection. 2 min 24 sec loop.
Created for her exhibition "Black White & Red Allover" Gallery One88, 2016.