Katoomba turned on it's best and worst during the week weather wise, but we were snug in our Steam Laundry Studio.
It was lovely to meet Mags, Denise, Lia and Yoshi and to catch up with Ruth, Lois, Reyna, Ken and Gordon.
Over the week we painted and drew from a variety of subjects from winter still life with fennel and carrots to pomegranates and lemons with iris's.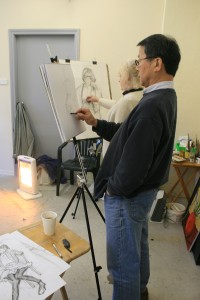 Our costumed models were Felix and Lily who both extraordinarily fascinating to draw and paint. Felix's long limbs and dark broody face resulted in some excellent sketches and portraits. Lily has that delicate but striking face that shows her Japanese, Polish heritage and was dresses in a way that accentuated her long elegant proportions. There were a number of wonderful painting and drawings of Lily done through the session and continued afterwards. Well done models and participants!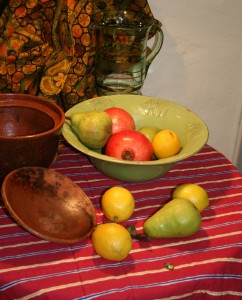 As usual I was amazed at how a bunch of people can all look at the same subjects and interpret it in so many equally interesting ways.Mags – who had done very little drawing or painting jumped in bravely and approached the week with an openness that really was refreshing to see. She also went away at the end of the week with some great work.
Overall I have to congratulate the group on staying so focused, for being so open and keen to learn while retaining the ability to have fun while doing it. You were all great.
Congratulations to all  who participated in the workshop and helped with the organising and clean up afterward.
Thanks also to Anita for making the space available.
Special thanks to Ken for his never failing enthusiasm and commitment in helping out when ever he can. You are brilliant!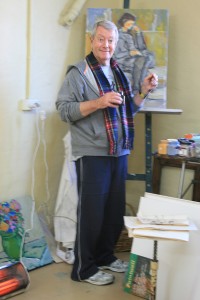 I am planning to run Katoomba workshop's in early December and late January when I return to the Mountains for the summer and will post details of these soon.
Any enquiries please email me at faye@fayewilson.com